Information related to Katya Kabanova 2023
Welcome to Katya Kabanova at Bergen National Opera
Dear friends,
I am very happy to welcome you all to Bergen, to our brand new production of Janáĉek's Katya Kabanova. Due to some coincidences and planning changes, this is the 2nd Czech opera in 2023, following our production of Rusalka from this spring – so wrapping up 2023, «the beautiful Czech year» in Bergen.
Katya Kabanova has never been performed in Bergen before, but I am sure the way Janáĉek is painting effects in nature, and how he sometimes is incorporating folk themes in his music, will resonate with the mood of the Norwegian audience. Not to mention the dark story of Ostrovsky, a representant of the Russian realism and contemporary of our own Ibsen.
A warm and special welcome to our conductor Jiří  Rožeň, our stage director Barbora Horáková Joly and her team – together with a wonderful cast, I am sure we will have a great time together.
Bergen is a beautiful city – make sure you also find time to visit our fish market, take a trip with the funicular «Fløibanen», walk from Ulriken to Fløyen (2 of the 7 mountains) visit our museum complex «Kode», the beautiful house of Edvard Grieg at Troldhaugen, or simply have a walk in the atmospheric city center.
4th of October we have an OperaPub in «Kulturhuset» – this is a very popular, monthly arrangement where you can both attend or even perform in a very informal environment.
And our orchestra The Bergen Philharmonic, is performing Brahms and Richard Strauss in Grieghallen on Friday 20th of October.
Looking forward to seeing you all soon – enjoy!
From Bergen with love,
Eivind ☺️

Please click on link:
The Production Schedule may change. Please contact Vilde Gustavsen if you have any questions. Thank you. (vilde@bno.no)


Social event: OperaPub Wednesday 4th of October at Kulturhuset at 21:30.

KATJA KABANOVA
Opera in three acts
Leoš Janáček / Music
Leoš Janáček / Libretto
based on Alexander N. Ostrovsky's drama The Storm, translated by Vincenc Červinka
4th, 6th, 8th and 10th of November 2023
Grieghallen
Sung in Czech, surtitles in Norwegian and English
Duration 2 hour 15 minutes, including 30 min intermission after act 2.

CREATIVE TEAM
Jiří Rožeň / Conductor
Barbora Horáková / Stage director
Thilo Ullrich / Set design
Eva-Maria Van Acker / Costume design
Sascha Zauner / Lighting design
Håkon Matti Skrede / Chorus master

Ingunn Korsgård Hagen/ Asst. conductor
Ann-Terese Aasen/ Asst. stage director


ON STAGE
Ausrine Stundyte / Katja
Peter Lodahl / Tichon
Susan Bullock / Kabanicha
Håvard Stensvold / Dikoj
Ladislav Elgr / Boris
Arnheiður Eiríksdóttir / Varvara
James Ley / Kudrjas
Ludvig Lindström / Kuligin
Siv Oda Hagerupsen / Glasa
Mathilda Bryngelsson / Feklusa
Bergen Philharmonic Orchestra 
Edvard Grieg Vocal Ensemble and singers from the Bergen Philharmonic Choir
A new production by Bergen National Opera
Presented by Bergen National Opera in collaboration with Bergen Philharmonic Orchestra and Edvard Grieg Choirs
BACK STAGE:
Odd Halstensen / Production Director
Vilde Ø. Gustavsen / Production Manager
Cathrine Ahlsen / Head of Costume
Ida Nilsen Aune / Stage Manager
Jenny Hope/ Head of Stage
Ivar Skjørestad / Lights
Vibeke Bjørvik/ Head of props
CONTACT DETAILS BNO
All contact emails and phone numbers to BNO staff can be found here
MILJØFYRTÅRN/ ECO LIGHTHOUSE
BNO is certified Miljøfyrtårn/ ECO Lighthouse since 2020. We focus on how we can make more environmentally friendly choices every day and you can help. Please choose public transport to work, bring your own water bottle, coffee mug, choose trademark products, recycle waste, clean up after you and create a nice work environment.

GENERAL INFORMATION
DISCOUNTED TICKETS
A link to discounted tickets will be announced. If you have any questions please contact Ole Klemsdal (see contact details BNO)
GRIEGHALLEN
Grieghallen is a multi purpose venue and BNO only have access to the rooms that are in the Production Schedule. Dressing rooms will be assigned after get-in on stage.
CANTEEN
The canteen is located on the 4th floor in Grieghallen. It's open during the Orchestra's rehearsal. With the Lunch Deal (50 NOK a day) we offer warm lunch, sandwiches to go, coffee and tea. If you like to join the lunch deal, we kindly ask you to sign up before you arrive by sending an email to Vilde (vilde@bno.no) The canteen do not except cash or credit card.
ADDRESS
Our venue, rehearsal studio and costume fittings is located in Grieghallen
Edvard Griegs plass 1, 5015 BERGEN
Pictures of the venue and information can be found on their website: www.grieghallen.no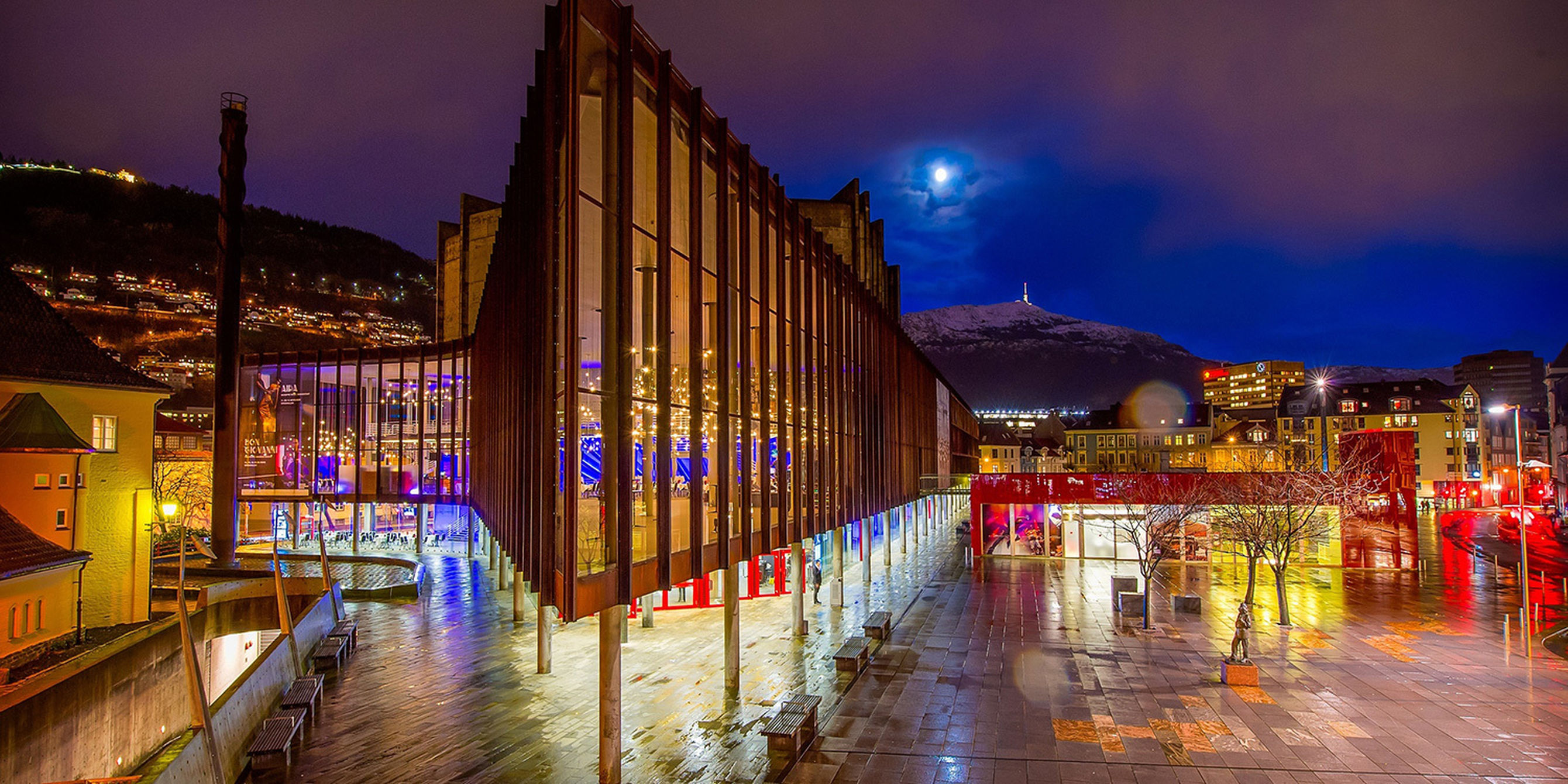 PRESS AND MEDIA
Contact persons
Ole Klemsdal / Head of Communication / Send email / +47 911 01 791
Monika / Head of e-commerce / Send email / +47 92 47 0001
Press
There may be journalists from the written press present at the rehearsals during the whole rehearsal period. There will be information about this beforehand. Any media coverage involving sound recording will be approved by the involved artists and singers beforehand.
Photo
Monika from Bergen National Opera's communications department will be recording and taking photos throughout the production for use in our social media channels.
Film
We will be recording parts of the rehearsals for documentation and social media teasers.

DINING IN BERGEN
Here are some tips on where to get discounts when eating out, just remember to bring your BNO card to
the below restaurants and cafés and present it when you place your order:

Zen Café: 10% with purchase over NOK 100
Café Opera: 10% Address: Engen 18, 5011 Bergen
Pingvinen: 10% - Address: Vaskerelven 14, 5014 Bergen

PLANNING YOUR STAY IN NORWAY

Weather
Norwegians love to talk about the weather! It changes from day to day, hour to hour, and we recommend bring clothes for both a rainy day as well as sunshine.

Money
The standard way of paying is by credit card or bank card. Few locals pay with cash - even for a packet of chewing gum.
As for general shopping, all but kiosks and tourists shops are closed on Sundays. Restaurants, cafés and bars are open all week. If you're looking for a Sunday open supermarket we recommend Bunnpris, Torggaten 6, and/or Nygårdsgaten 89.
For things to do in Bergen, check out Visitnorway.com

Premiere Party- what to wear
Anything and everything is welcomed. Most of us wear casual chic.
FROM THE AIRPORT TO THE CITY CENTRE (FOR OUR PRODUCTIONS IN GRIEGHALLEN, BERGEN)
There are several efficient and easy alternatives for how to get from Bergen Airport Flesland to Bergen city center. Bergen has good public transport services with both the Airport Bus Flybussen and the City Light Rail (called Bybanen in Norwegian), as well as taxis going between the airport and the city center.
If you have suitcase or heavy bags I would recommend the Airports bus. We recommend checking the www.entur.no for information on which transportation is available at the time of arrival at Bergen Lufthavn.
Bergen City Light rail (Bybanen) The cheapest way to get from Bergen Airport Flesland to Bergen city center is to go by the City Light Rail (Bybanen). It takes about 45 minutes from the Airport to Bergen city center and it costs only NOK 40 for an adult. The ticket needs to be purchased in advance either online at www.skyss.no/en/ or in their app Skyss ticket app. From the airport to the city center is 1 zone.

Check out www.skyss.no for more information. The City Light Rail starts right at the airport terminals lower deck and ends in the center of Bergen. The closest stop to Grieghallen, Hotel Terminus and Hotel Zander K is called Nonneseter.


Airport bus (Flybussen) A faster way to reach Bergen city center is by the Airport Bus (Flybussen), which only takes 33 minutes. The bus costs NOK 169 if you buy the tickets in advance online at www.flybussen.no The bus has several stops in Bergen city center and the closest stop to Grieghallen, Grand Hotel Terminus and Hotel Zander K is Bergen Busstasjon. You can find the bus just outside the Flesland arrival terminal. All stops with the Airport bus are announced.
Taxi The most direct way to get to your hotel is to take a taxi. A taxi from Bergen Airport Flesland to Bergen city center costs around NOK 525/575, but prices vary according to the time of day and the number of passengers. The taxis are parked just outside the arrival terminal. They prefer bank card (BankAxept, Visa and MasterCard) as payment, but you could also pay in cash (NOK).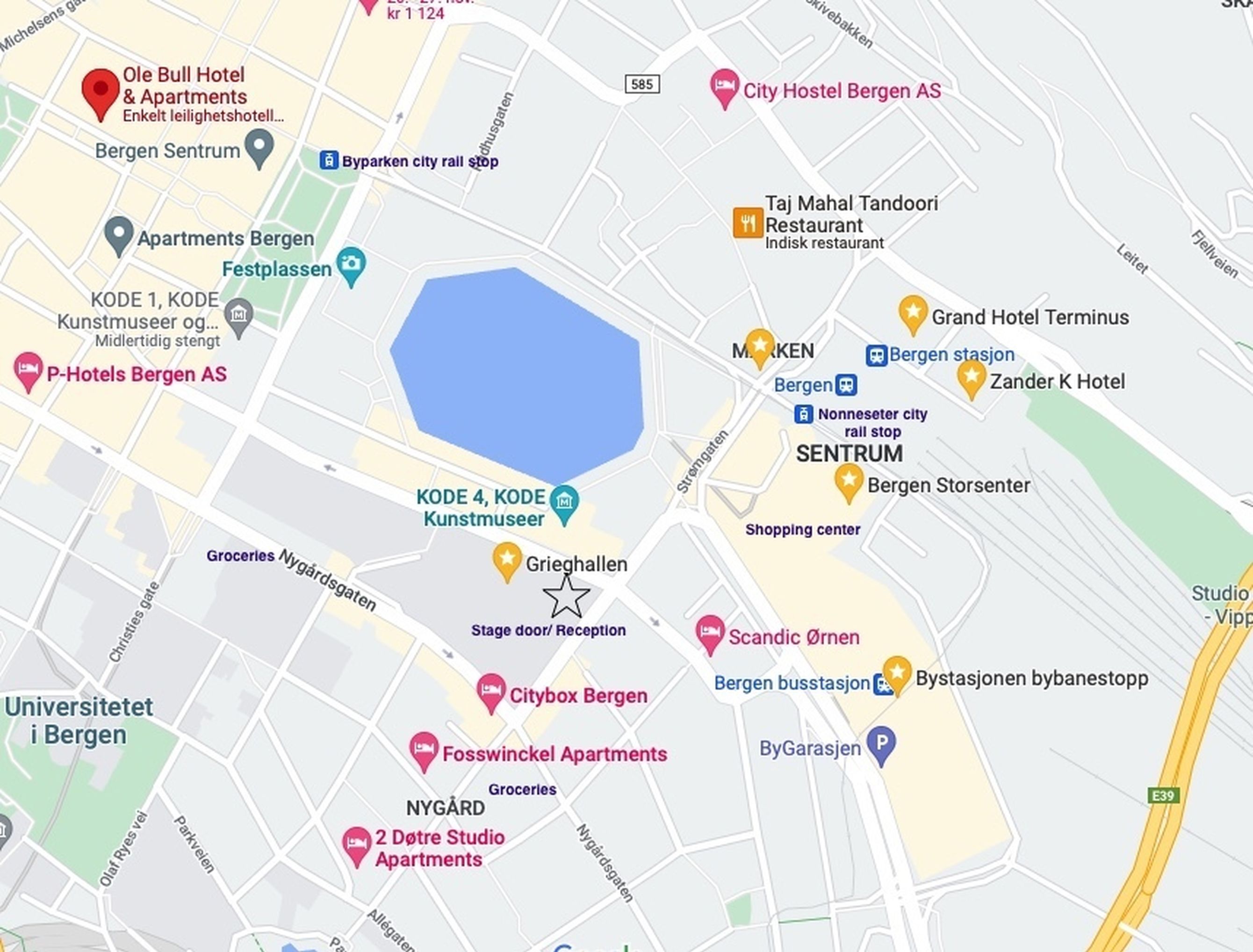 ANY QUESTIONS?
Please don't hesitate to contact us.

CONTACT INFO
Bergen Nasjonale Opera
Edvard Griegs plass 1
5015 BERGEN
NORWAY
+47 55 21 61 20
info@bno.no