Cast information – Tryllefløyten 2022
Information to participants relating to the production period of Tryllefløyten:
Dear friends,
I am so happy to welcome you all to Bergen, and to this very special production of «the Magic Flute» by Simon McBurney.
Many of you have done this production several times, and are part of this very special «Flute-family» - while some of you are doing it for the first time, and some are even doing a role debut – a wonderful mixture of experience and talent!
Personally I was introduced to this production through Mari, who sang Pamina, in Aix-en-Provence in 2014, and we have enjoyed it several times since then – I am really glad we finally can present it to our audience in Bergen.
I wish you a wonderful time and hopefully good and inspiring work here in Bergen.
But dont forget; Bergen is a beautiful city – make sure you also find time to visit our fish market, take a trip with the funicular «Fløibanen», and have a walk in the atmospheric city center.
Looking forward to seeing you all soon – enjoy!
From Bergen with love,
Eivind ☺️
PRODUCTION SCHEDULE: please click on the link:
Production Schedule

The schedule may change, so please contact Vilde Gustavsen if you have any questions. Thank you :)

The Magic Flute (Die Zauberflöte)

Opera in two acts

Wolfgang Amadeus Mozart / Music
Emanuel Schikaneder / Libretto

Sung in German, surtitled in Norwegian
Duration approx. 3 hours and 15 minutes, including 30 minutes intermission
Performances November 5th, 7th, 9th and 11th in Grieghallen in Bergen
A co-production between Dutch National Opera, Amsterdam; English National Opera, London; and Festival d'Aix-en-Provence.
Presented by Bergen National Opera, Musikkselskapet Harmonien and Edvard Grieg Kor.
CREATIVE TEAM
Eivind Gullberg Jensen / Conductor
Simon McBurney / Stage director
Michael Levine / Set designer
Nicky Gillibrand / Costume designer
Jean Kalman / Lighting designer
Finn Ross / Video designer
Gareth Fry / Sound designer
Josie Daxter / Movement director
Håkon Matti Skrede / Chorus master

REVIVAL
Rachael Hewer / Revival Director
Gunvald Ottesen / Asst. Conductor
Ann-Terese Aasen / Asst. Stage Director
Michael Gunning / Lighting Associate
Matthieu Maurice / Sound Associate
Andrea Scott / Video Assistant
ON STAGE
Linard Vrielink / Tamino
Mari Eriksmoen / Pamina
Stephen Milling / Sarastro
Rainelle Krause / Queen of the Night
Ann-Helen Moen / First Lady
Rosanne van Sandwijk / Second Lady
Astrid Nordstad / Third Lady
Thomas Oliemans / Papageno
Renate Ekerhovd / Papagena
Mark Omvlee / Monostatos
Håvard Stensvold / Speaker
Ludvig Lindström/ First Priest
Eirik Grøtvedt/ Second Priest
Eirik Grøtvedt/ First armored man
Ludvig Lindström/ Second armored man
Olav Frøyen Sandvik, Benjamin Winter, Markus Sollesnes/ Soloists from Edvard Grieg Boy's Choir / Three child-spirits
Seraphina Schweiger / Live Video Artist
Ruth Sullivan / Live Sound Artist
ACTORS
Gabriella Schmidt, Nina Bowers, Lia Schädler, Meghan Treadway, Shanice Sewell, Elsa May Averill, Robin Khor Yong Kuan, Jorge Arbert, Thomas Lacroix, Matthew Coulton og Maxime Nourissat
Bergen Filharmoniske Orkester
Edvard Grieg Kor, singers from Bergen Filharmoniske Kor and Griegakademiet
BACK STAGE:
Odd Halstensen / Production Director
Vilde Gustavsen / Production Manager
Pia Gullichsen and Ida Nilsen Aune / Stage Managers
Cathrine Ahlsen / Head of Costume
Barbro Worren / Head of Props
Ingrid Stasi Skjold / Head of Make-Up and SFX
Jenny Hope / Head of Stage
Ivar Skjørestad / Lights
Jørgen Lystrup / Head of CT-Group
GENERAL INFORMATION

CONTACT DETAILS BNO
All contact emails and phone numbers to BNO staff can be found here

PRESS AND MEDIA
Contact persons
Ole Klemsdal / Head of Communication / Send email / +47 911 01 791
Monika / Head of e-commerce / Send email / +47 92 47 0001
Press
There may be journalists from the written press present at the rehearsals during the whole rehearsal period. There will be information about this beforehand. Any media coverage involving sound recording will be approved by the involved artists and singers beforehand.
Photo
Monika from Bergen National Opera's communications department will be recording and taking photos throughout the production for use in our social media channels.
Film
We will be recording parts of the rehearsals for documentation and social media teasers.
ECO LIGHTHOUSE
BNO is certified ECO Lighthouse since 2020. We focus on how we can make more environmentally friendly choices every day and you can help. Please choose public transport to work, bring your own water bottle, coffee mug, choose trademark products, recycle waste, clean up after you and create a nice work environment.

WI-FI
Grieghallen Guest- Klokkeklang
DINING IN BERGEN
Here are some tips on where to get discounts when eating out, just remember to bring your BNO card to
the below restaurants and cafés and present it when you place your order:

Zen Café: 10% with purchase over NOK 100
Café Opera: 10% Address: Engen 18, 5011 Bergen
Pingvinen: 10% - Address: Vaskerelven 14, 5014 Bergen

PLANNING YOUR STAY IN NORWAY

Arrival international: Please note that since Feb 12th the travel-restrictions upon entry into Norway have been lifted. The same rules as prior to the corona pandemic now apply.

Money
The standard way of paying is by credit card or bank card. Few locals pay with cash - even for a packet of chewing gum. The only place where you will need cash, or use the app VIPPS, is in our canteen on the 4th floor.

Weather
Norwegians love to talk about the weather! It changes from day to day, hour to hour, and we recommend bring clothes for both a rainy day as well as sunshine.
As for general shopping, all but kiosks and tourists shops are closed on Sundays. Restaurants, cafés and bars are open all week.
For things to do near Bergen, check out Visitnorway.com

FROM THE AIRPORT TO THE CITY CENTRE (FOR OUR PRODUCTIONS IN GRIEGHALLEN, BERGEN)
There are several efficient and easy alternatives for how to get from Bergen Airport Flesland to Bergen city center. Bergen has good public transport services with both the Airport Bus Flybussen and the City Light Rail (called Bybanen in Norwegian), as well as taxis going between the airport and the city center. If you have suitcase or heavy bags I would recommend the Airports bus.
Bergen City Light rail (Bybanen) The cheapest way to get from Bergen Airport Flesland to Bergen city center is to go by the City Light Rail (Bybanen). It takes about 45 minutes from the Airport to Bergen city center and it costs only NOK 40 for an adult. The ticket needs to be purchased in advance either online at www.skyss.no/en/ or in their app Skyss ticket app. From the airport to the city center is 1 zone.

Check out www.skyss.no for more information. The City Light Rail starts right at the airport terminals lower deck and ends in the center of Bergen. The closest stop to Grieghallen, Hotel Terminus and Hotel Zander K is called Nonneseter.


Airport bus (Flybussen) A faster way to reach Bergen city center is by the Airport Bus (Flybussen), which only takes 33 minutes. The bus costs NOK 129 if you buy the tickets in advance online at www.flybussen.no The bus has several stops in Bergen city center and the closest stop to Grieghallen, Grand Hotel Terminus and Hotel Zander K is Bergen Busstasjon. You can find the bus just outside the Flesland arrival terminal. All stops with the Airport bus are announced.
Taxi The most direct way to get to your hotel is to take a taxi. A taxi from Bergen Airport Flesland to Bergen city center costs around NOK 500, but prices vary according to the time of day and the number of passengers. The taxis are parked just outside the arrival terminal. They prefer bank card (BankAxept, Visa and MasterCard) as payment, but you could also pay in cash (NOK).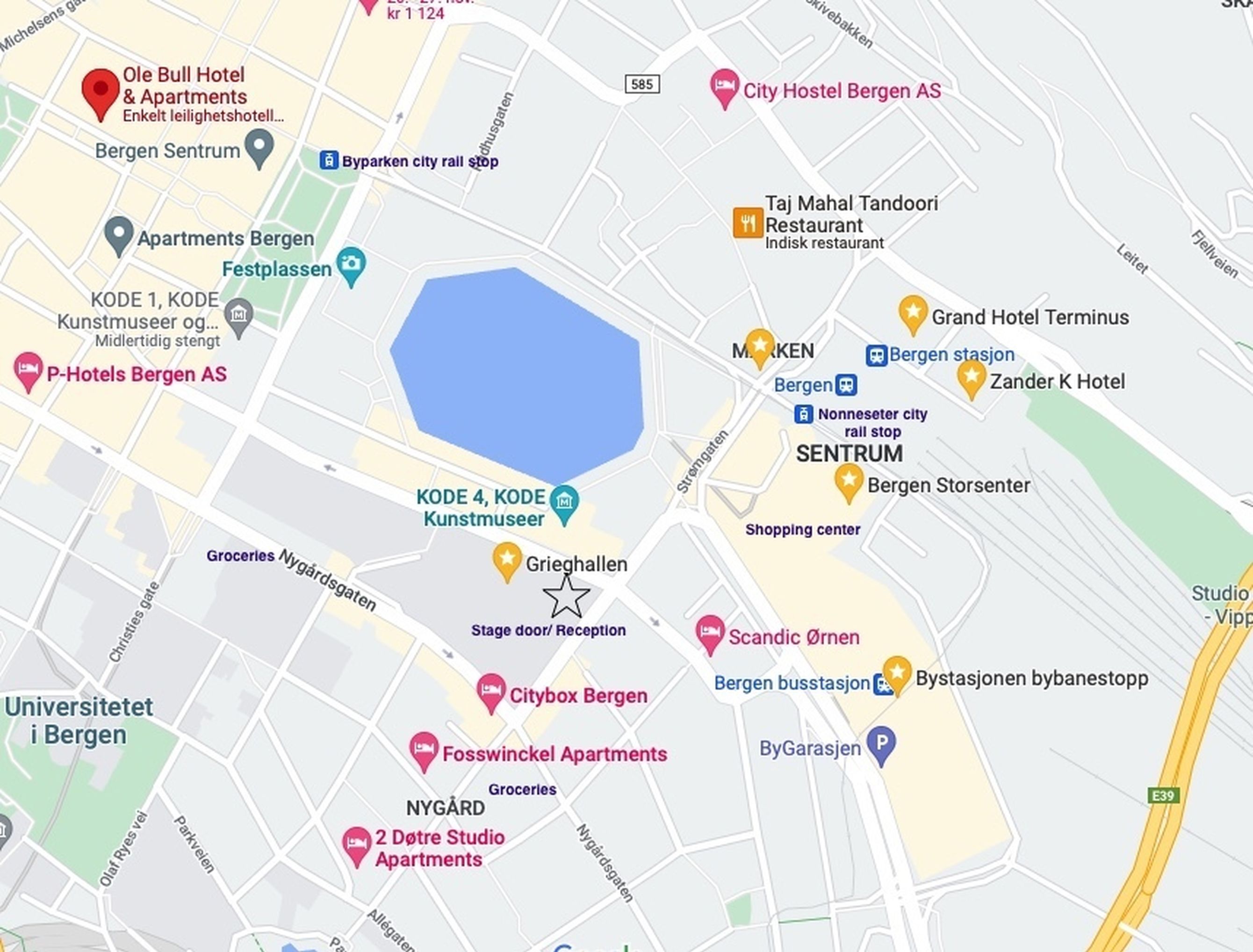 ANY QUESTIONS?
Please don't hesitate to contact us.

CONTACT INFO
Bergen Nasjonale Opera
Edvard Griegs plass 1
5015 BERGEN
NORWAY
+47 55 21 61 20
info@bno.no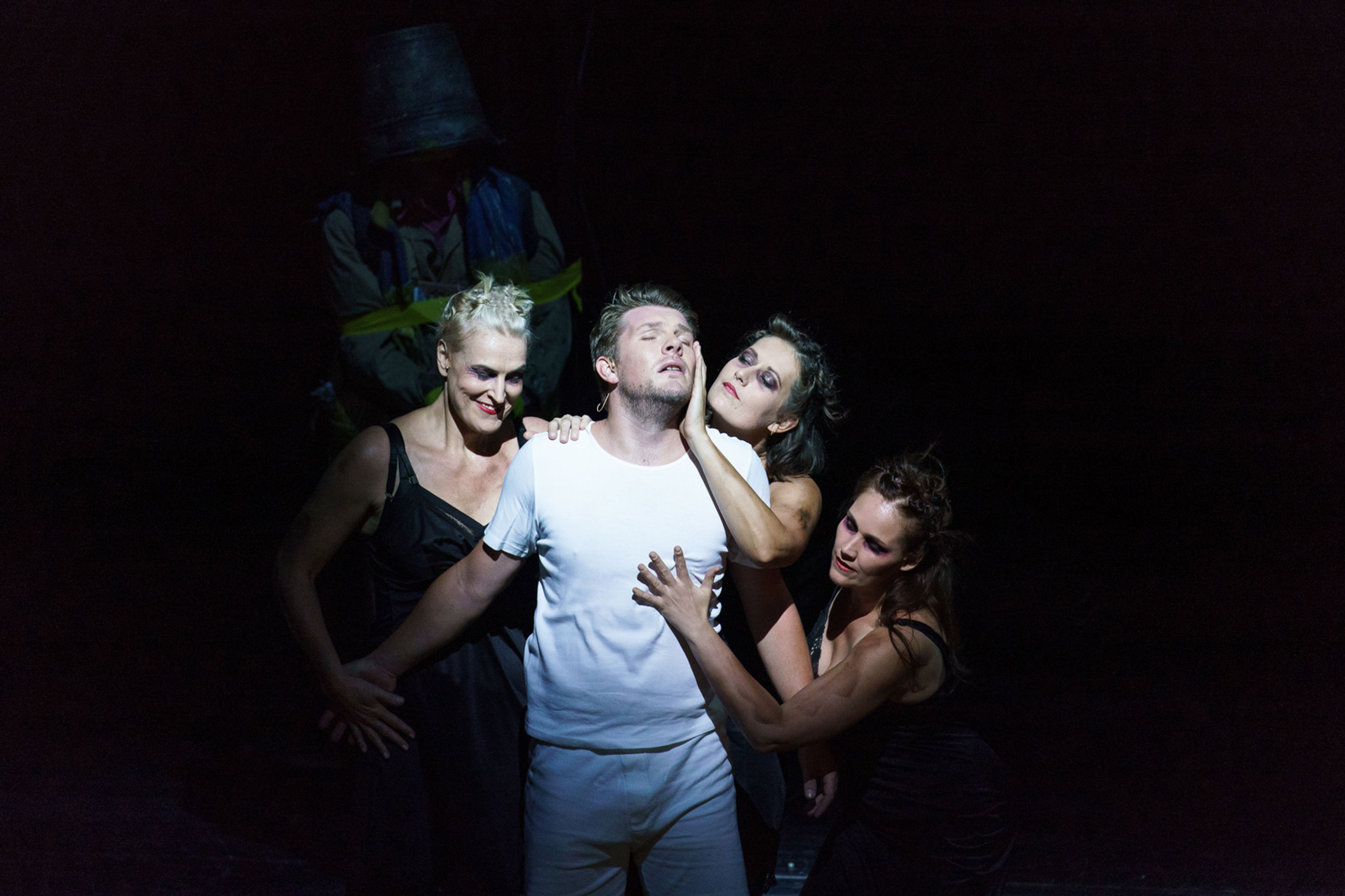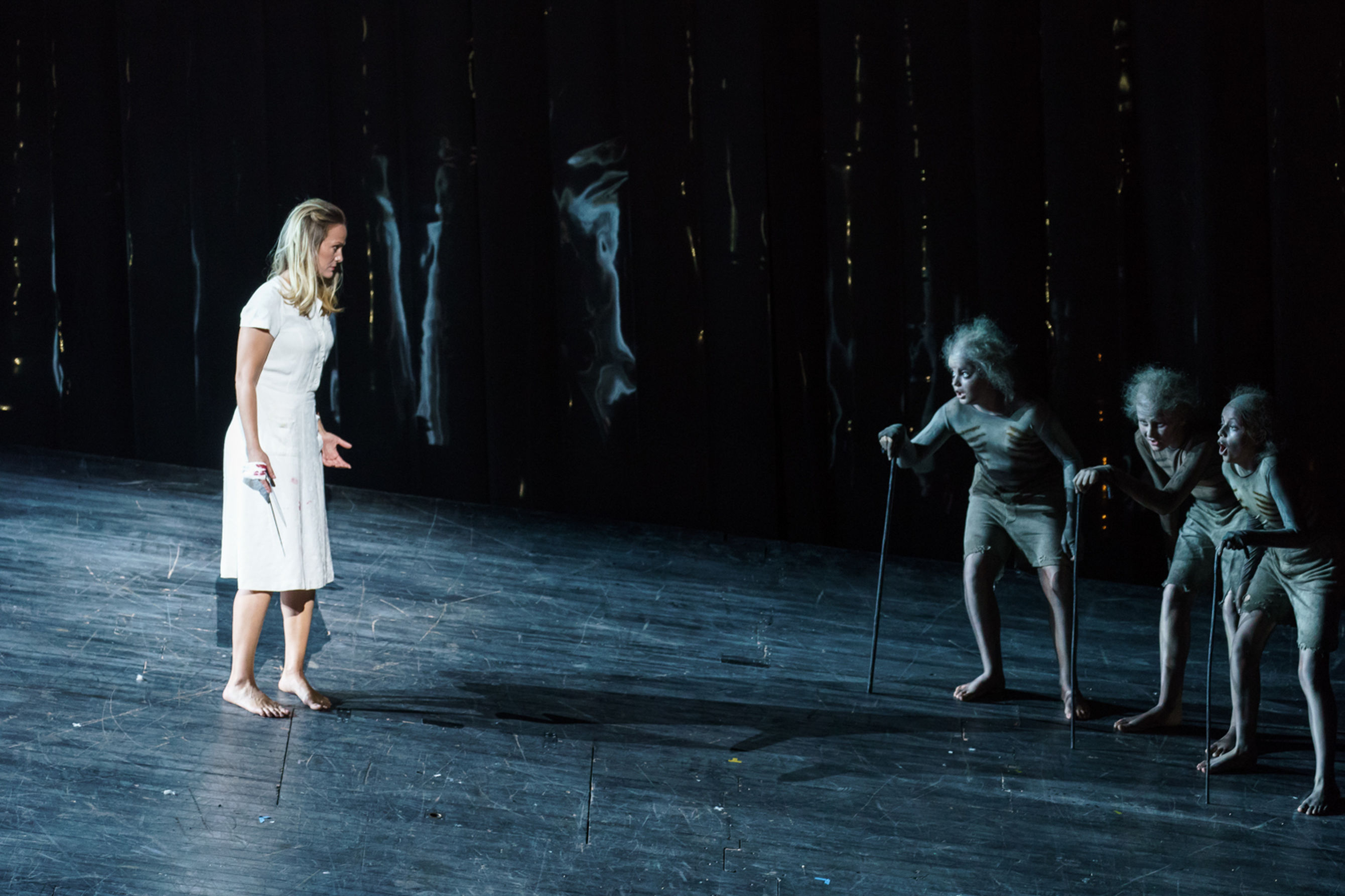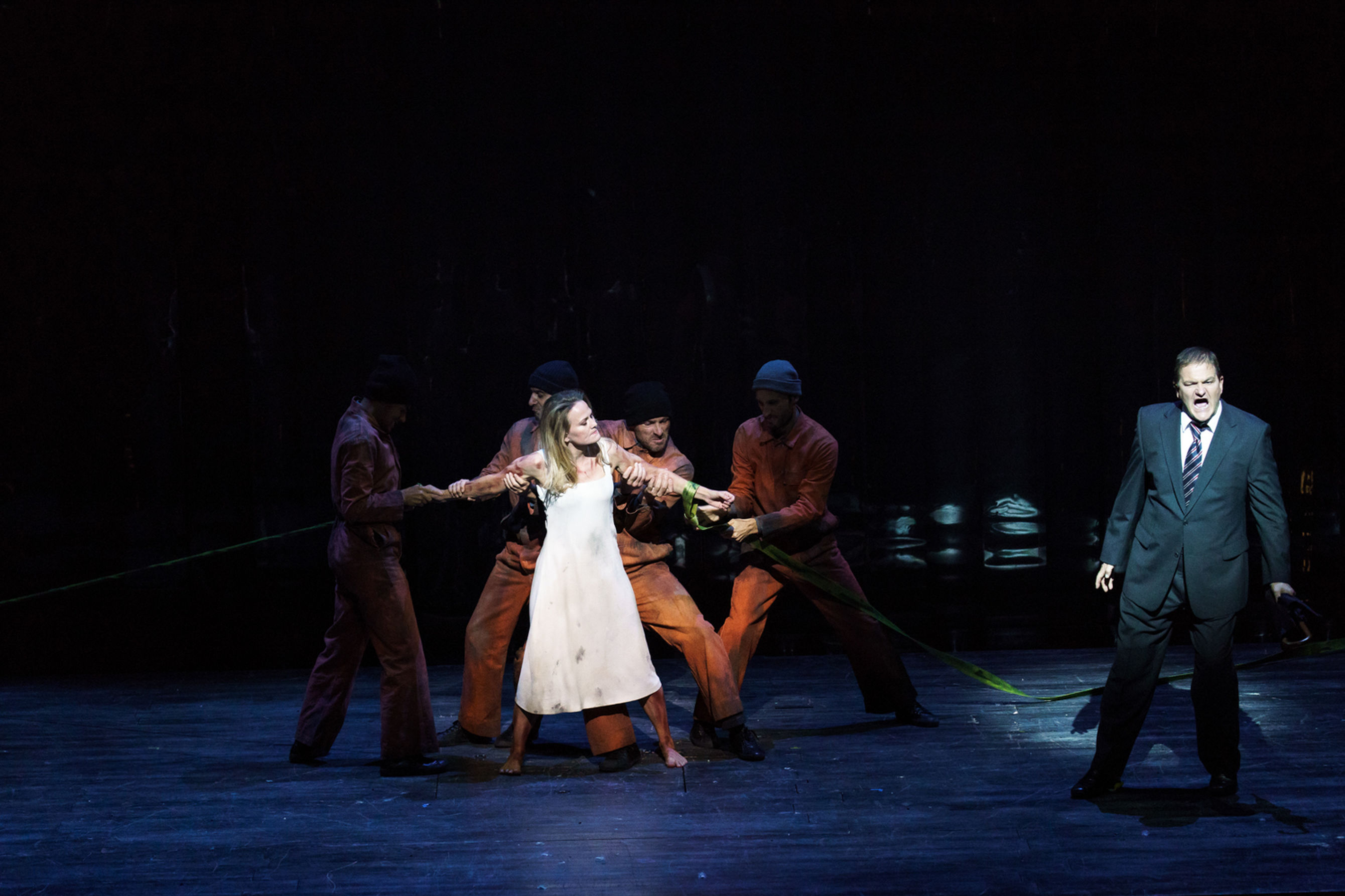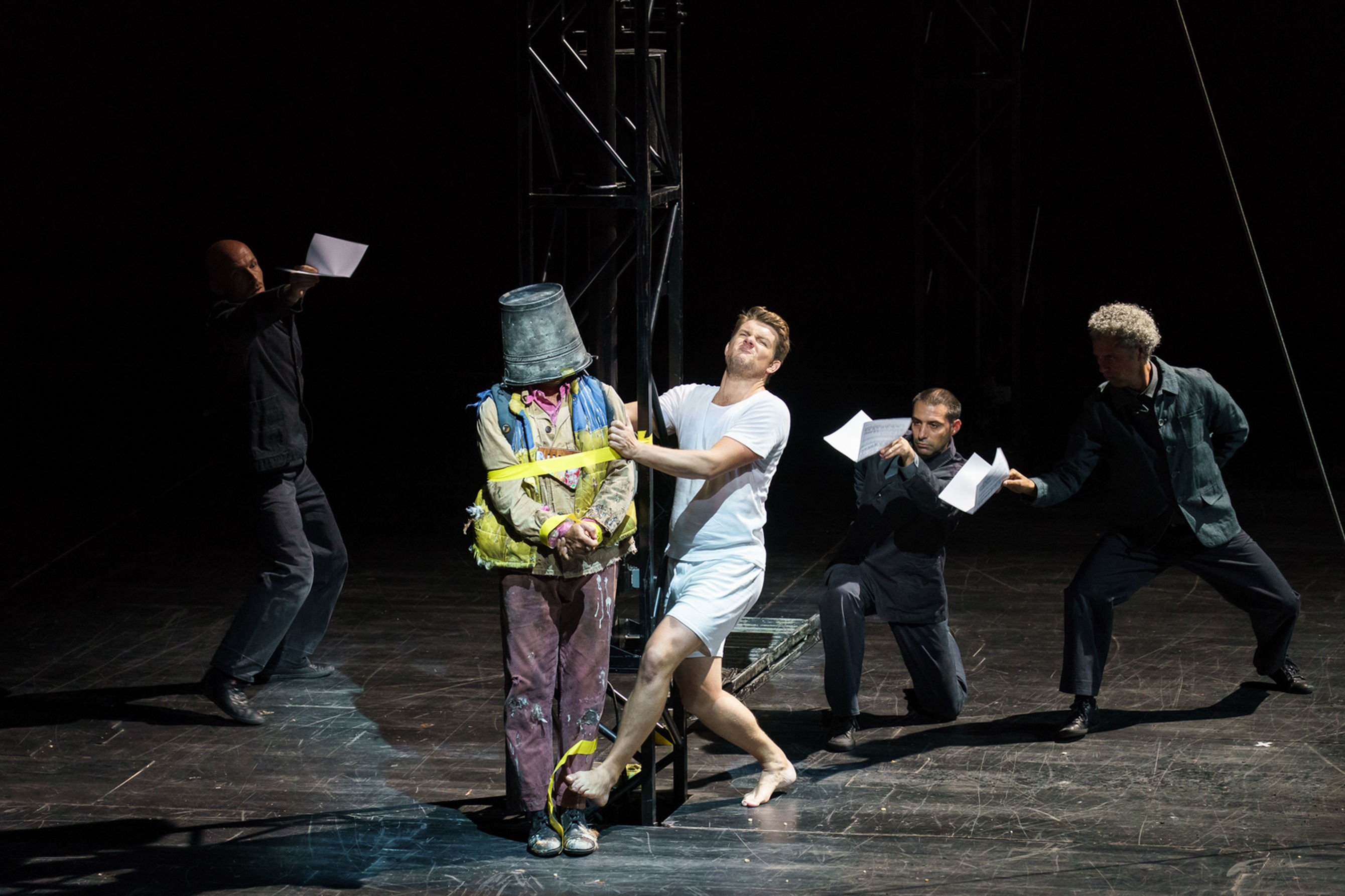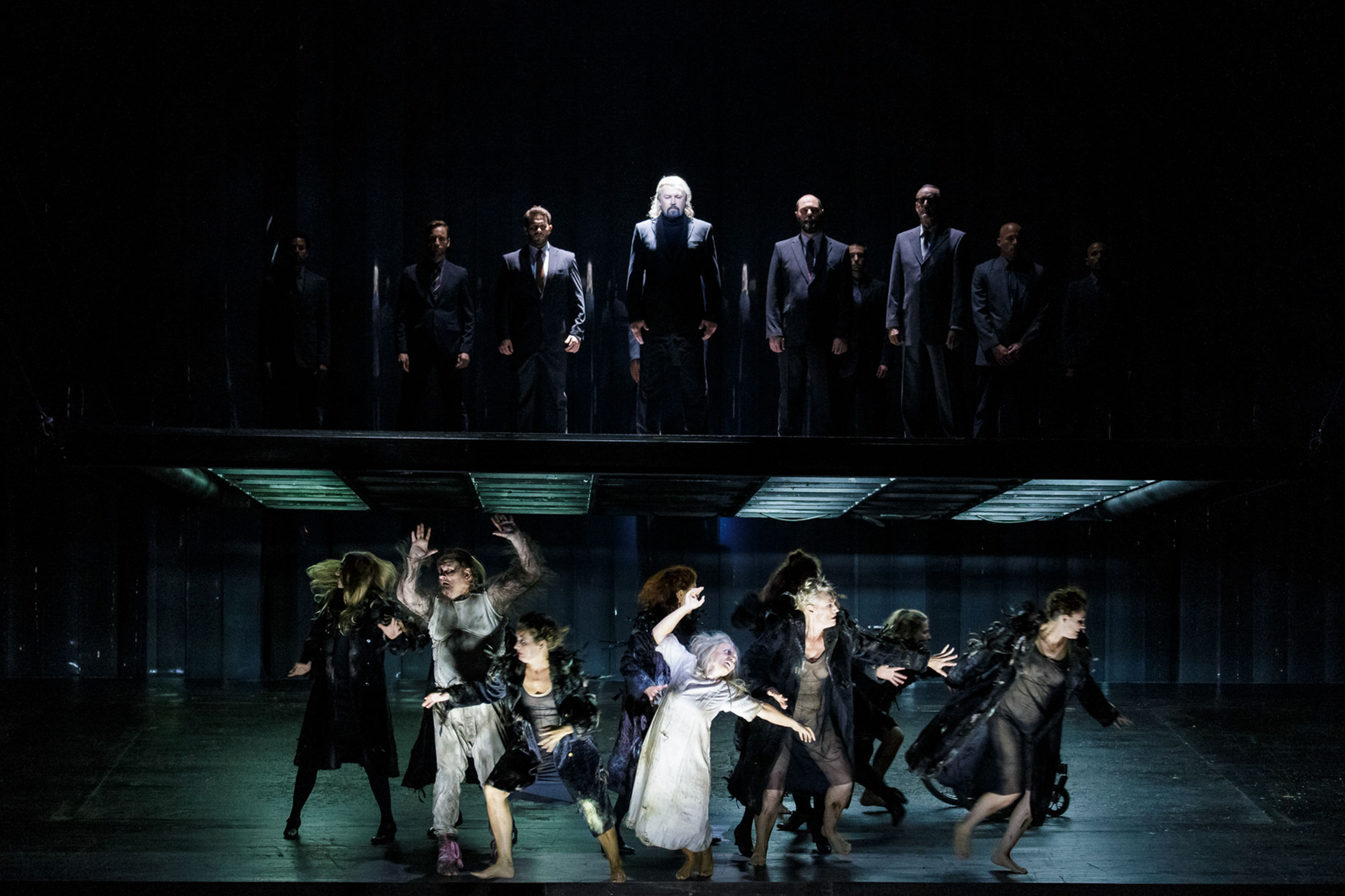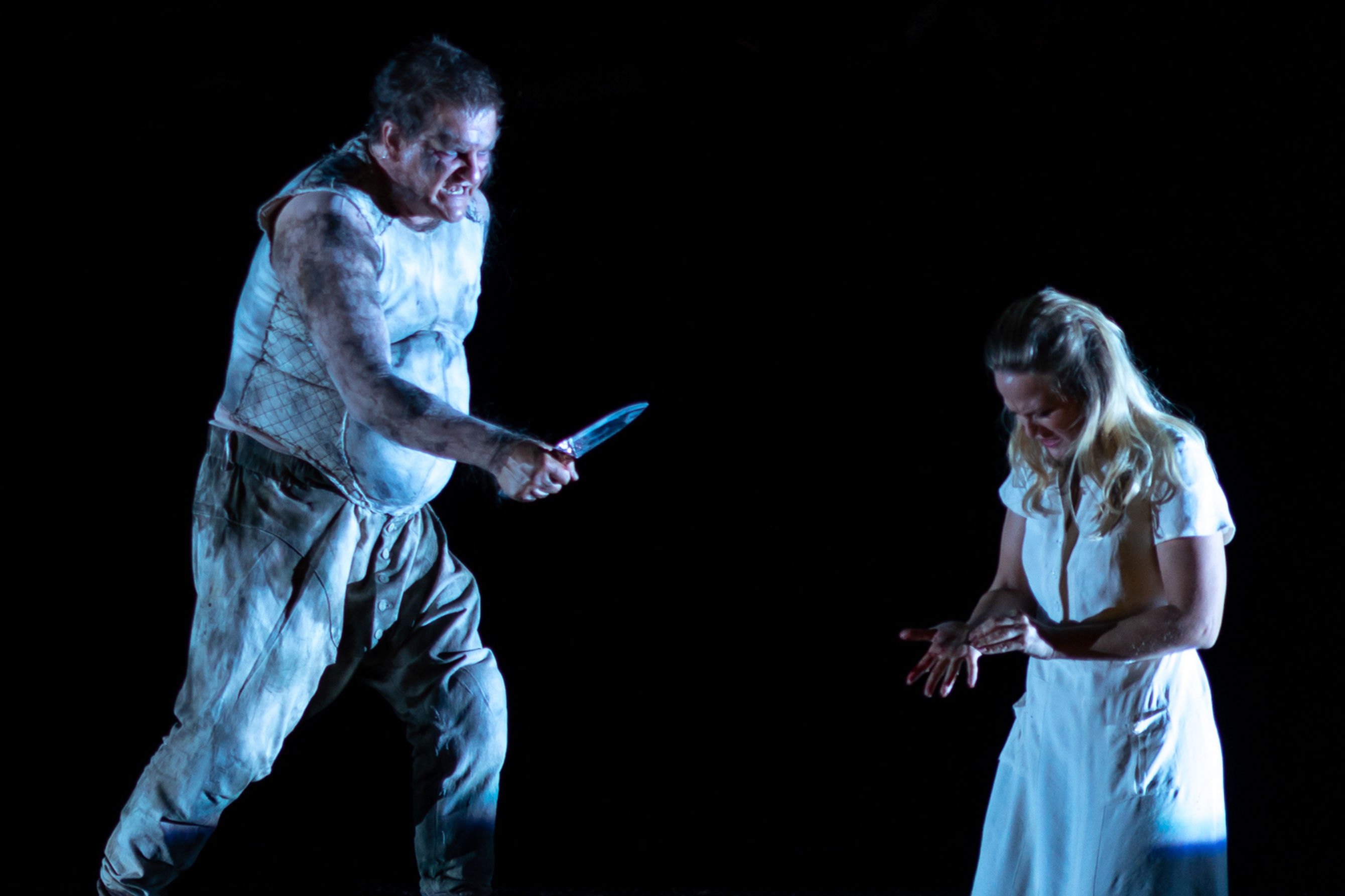 Photo / The Magic Flute / Dutch National Opera: Michel Schnater