Cast information – Rusalka 2023
Informasjon related to Rusalka
Please click on link:
Production Schedule

The Production Schedule may change, so please contact Vilde Gustavsen if you have any questions. Thank you. (vilde@bno.no)

Social Event:
Meet and greet TBA
Operapub: March 8th at Kulturhuset, Vaskerelven 8, 5014 Bergen
RUSALKA
Opera in three acts
Antonín Dvorák / Music
Jaroslav Kvapil / Libretto

A new production by Bergen National Opera
Presented by Bergen National Opera in collaboration
with Bergen Philharmonic Orchestra and Edvard Grieg Kor
18th of March at 6pm, 20th, 22nd and 24th March at 7pm
Grieghallen
Sung in Czech, surtitles in Norwegian  
Duration 3  hours, with 30 minutes intermission included
CREATIVE TEAM
Eivind Gullberg Jensen / Conductor
Àlex Ólle / Stage Director
Alfons Flores / Scenography
Lluc Castells / Costume design
Urs Schönebaum / Light design
Håkon Matti Skrede / Chorus Master
Jean Michel Crique/ Assistant Stage Director
Ann-Terese Aasen/ Assistant Stage Director
Ahmad Hedar/ Assistant Conductor
ON STAGE
Malin Bystrøm/ Rusalka
Ante Jerkunica/ Vodnik
Brandon Jovanovich/ Prince
Allison Cook/ Foreign Princess
Hege Høiseter/ Jezibaba
Igor Gnidii/ Gamekeeper
Siv Oda Hagerupsen/ Kitchen Boy
Hamida Kristoffersen/ 1.Nymph
Marcela Randem/ 2.Nymph
Monika Jägerova/ 3.Nymph
Ian Marcus Bjørsvik/ Hunter

Bergen Philharmonic Orchestra
Edvard Grieg Kor
Lady chorus from Bergen Philharmonic Chorus (offstage chorus)


BACK STAGE:
Odd Halstensen / Production Director
Vilde Ø. Gustavsen / Production Manager
Pia Gullichsen / Stage Manager
Cathrine Ahlsen / Head of Costume
Barbro Worren / Head of Props
Ingrid Stasi Skjold / Head of Make-Up
TBA / Head of Stage
Ivar Skjørestad / Lights
Jørgen Lystrup / Head of CT-Group
MILJØFYRTÅRN/ ECO LIGHTHOUSE
BNO is certified Miljøfyrtårn/ ECO Lighthouse since 2020. We focus on how we can make more environmentally friendly choices every day and you can help. Please choose public transport to work, bring your own water bottle, coffee mug, choose trademark products, recycle waste, clean up after you and create a nice work environment.

WI-FI
Grieghallen Guest- Klokkeklang

GENERAL INFORMATION
DISCOUNTED TICKETS
Please follow this link to purchase up to two discounted tickets at NOK 200 in zone 2 and NOK 150 in zones 3 and 4. If you have any questions please contact Ole Klemsdal (see contact details BNO)
CONTACT DETAILS BNO
All contact emails and phone numbers to BNO staff can be found here
GRIEGHALLEN
Grieghallen is a multi purpose venue and BNO only have access to the rooms that are in the Production Schedule.
PRESS AND MEDIA
Contact persons
Ole Klemsdal / Head of Communication / Send email / +47 911 01 791
Monika / Head of e-commerce / Send email / +47 92 47 0001
Press
There may be journalists from the written press present at the rehearsals during the whole rehearsal period. There will be information about this beforehand. Any media coverage involving sound recording will be approved by the involved artists and singers beforehand.
Photo
Monika from Bergen National Opera's communications department will be recording and taking photos throughout the production for use in our social media channels.
Film
We will be recording parts of the rehearsals for documentation and social media teasers.
DINING IN BERGEN
Here are some tips on where to get discounts when eating out, just remember to bring your BNO card to
the below restaurants and cafés and present it when you place your order:

Zen Café: 10% with purchase over NOK 100
Café Opera: 10% Address: Engen 18, 5011 Bergen
Pingvinen: 10% - Address: Vaskerelven 14, 5014 Bergen
Norwegian: FRA FLESLAND TIL BERGEN SENTRUM OG GRIEGHALLEN
Kollektive tilbudet i Bergen er godt og vi anbefaler å benytte enten appen til entur (www.entur.no) eller Skyss (www.skyss.no) for billettkjøp og reiseplanlegger.
Fra Bergen Lufthavn Flesland finnes det tre alternativer:
Bybanen: Lokalisert i underetasjen utenfor inngangen finner du bybanen. Nærmeste stopp til Grieghallen, Zander K og Grand Hotel Terminus er "Nonneseter". Prisen pr. tur er kr. 40 og billett kjøpes i app eller på nettsiden www.skyss.no
Flybuss: Flybussen finnes i 1.etasje utenfor flyplassen. Nærmeste stopp til Grieghallen, Zander K og Grand Hotel Terminus er "Bystasjonen". Billett kjøpes på www.flybussen.no
Taxi: Taxi står utenfor i 1.etasje og prisen på tur til sentrum er ca. 500 kr.
English:
FROM THE AIRPORT TO THE CITY CENTRE (FOR OUR PRODUCTIONS IN GRIEGHALLEN, BERGEN)
There are several efficient and easy alternatives for how to get from Bergen Airport Flesland to Bergen city center. Bergen has good public transport services with both the Airport Bus Flybussen and the City Light Rail (called Bybanen in Norwegian), as well as taxis going between the airport and the city center. If you have suitcase or heavy bags I would recommend the Airports bus. We recommend checking the www.entur.no for information on which transportation is available at the time of arrival at Bergen Lufthavn.
Bergen City Light rail (Bybanen) The cheapest way to get from Bergen Airport Flesland to Bergen city center is to go by the City Light Rail (Bybanen). It takes about 45 minutes from the Airport to Bergen city center and it costs only NOK 40 for an adult. The ticket needs to be purchased in advance either online at www.skyss.no/en/ or in their app Skyss ticket app. From the airport to the city center is 1 zone.

Check out www.skyss.no for more information. The City Light Rail starts right at the airport terminals lower deck and ends in the center of Bergen. The closest stop to Grieghallen, Hotel Terminus and Hotel Zander K is called Nonneseter.


Airport bus (Flybussen) A faster way to reach Bergen city center is by the Airport Bus (Flybussen), which only takes 33 minutes. The bus costs NOK 129 if you buy the tickets in advance online at www.flybussen.no The bus has several stops in Bergen city center and the closest stop to Grieghallen, Grand Hotel Terminus and Hotel Zander K is Bergen Busstasjon. You can find the bus just outside the Flesland arrival terminal. All stops with the Airport bus are announced.
Taxi The most direct way to get to your hotel is to take a taxi. A taxi from Bergen Airport Flesland to Bergen city center costs around NOK 500, but prices vary according to the time of day and the number of passengers. The taxis are parked just outside the arrival terminal. They prefer bank card (BankAxept, Visa and MasterCard) as payment, but you could also pay in cash (NOK).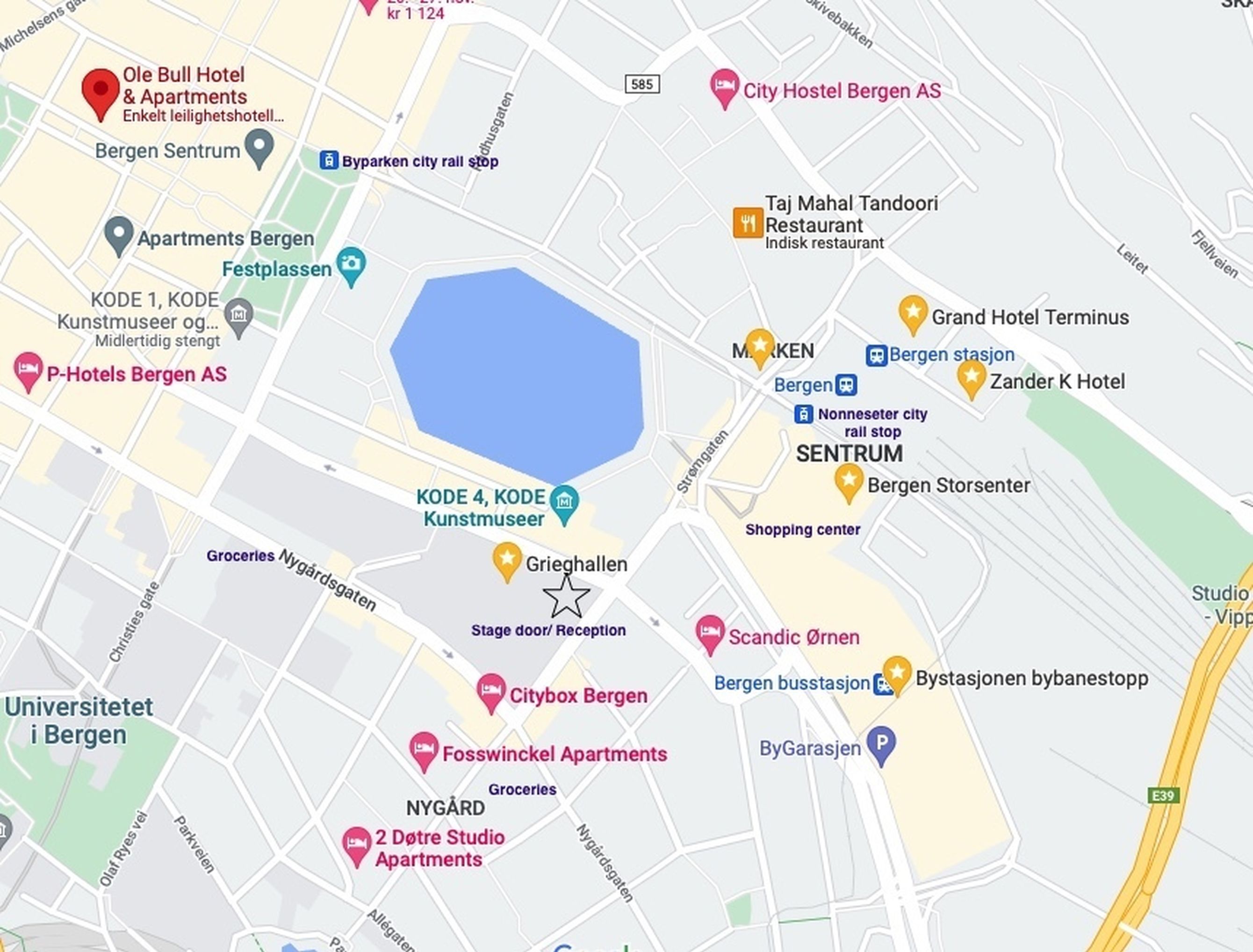 ANY QUESTIONS?
Please don't hesitate to contact us.

CONTACT INFO
Bergen Nasjonale Opera
Edvard Griegs plass 1
5015 BERGEN
NORWAY
+47 55 21 61 20
info@bno.no